People Counting Solutions
People counters for retail store traffic monitoring
Retail people counters helps you to track amount of potential customers visiting your retail stores. They accurately track visitors statistics and combine with financial data from cash registers to help determine how much sales revenue generated and amount of goods purchased per visitor.

Using this statistical data, it is easier to track sales staff efficiency, analyze promotional activities success, and determine visiting trends to optimize quantity of staff needed in stores.  The statistical data enhances better business decisions making on marketing activities, staff work schedule and sales people efficiency for  increase business profitability and operation efficiency.
People Counters for Shopping Mall & Retail Outlets
SensMax People counting solution helps provide full picture of people traffic across  shopping mall and retail outlets. You will get detailed information about visitors traffic in 20+ statistical, analytical, administrative and financial reports sorted per hour, day, week, month or year.

It gives you opportunity to plan rent costs according to people traffic intensity in different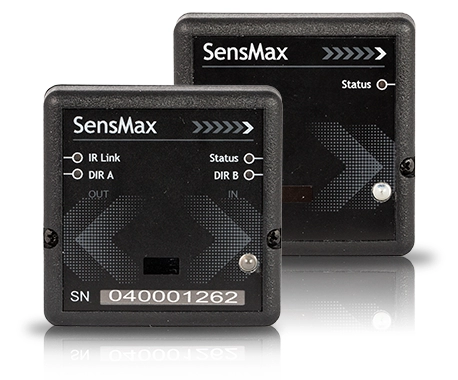 zones or floors, to track people responsiveness to your marketing activities and pick-up the most effective marketing channels with higher impact to visiting intensity.  In addition, people counting solution helps you to plan staff and security personnel schedule according to visiting trends.
The people counting system with automatically forward traffic statistics using WiFi/Ethernet data collector gateway to SensWeb platform every 20 minutes. The gateway reads data from counter sensors that are up to 800m radius. Each gateway supports up to 30 bi-directional counter sensors.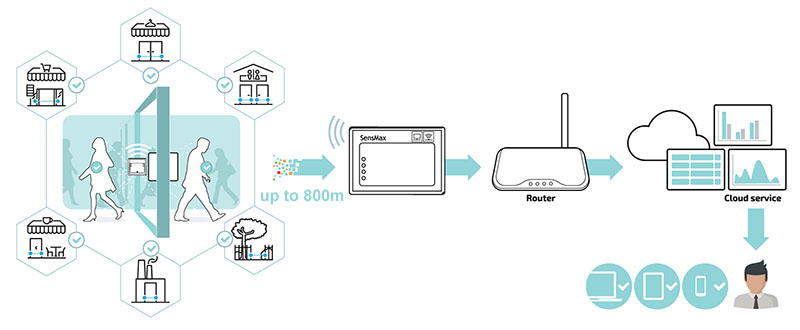 Statistical data in graphics display are available in 5-minutes time interval and 1-second time interval in export raw data format. For per seconds update, there is an option to use real-time per second time stamped sensors and data collector with SensWeb premium account
Smart AI "Deep Count" Vision Sensor
Overhead smart "deep count"3D vision sensor from TD Intelligence couple with TrafficPro intelligence and retail analytics software can help business to evaluate and improve its retail performance with in-depth understanding of the customer traffic and behavior.
Remarkable Accuracy – Stereo vision analytics plus patented 'DeepCount' renders accuracy rate up to 98% and above under typical applications. 
Multi-zone Traffic Counting – One single sensor can set up to 16 discrete zones for data collection, making it possible to serve multiple purposes.
Tilt Installation – Up to 45° tilt installation allows sensor to be used in complex scenarios like counting passing-by traffic flow.
Multi-sensor Joint Capability – Sensor can incorporate data from up to 9 sensors to cover a large area for traffic counting.
Staff Exclusion Feature – Through intelligent staff uniform recognition technology, the sensor is able to exclude the staff from counting statistic.
Our solution options include non-intrusive easy to deploy battery operated IR beams counters as well as cutting-edge deep machine learning artificial intelligence (AI) 3D with advance recognition features.
Outdoor pedestrian counting system
SensMax Outdoor Pedestrian Counting System helps to track visiting trends and to record pedestrian amount in parks, recreational facilities and hiking trails. Visiting statistics from pedestrian counters can be used for adjusting staff work schedule according to occupancy trends, as well as for accurate reporting for fundraising purposes. It helps to evaluate promotional activities effectiveness and  allow you to select the best advertisement modes for generating more pedestrian traffic at your location.

SensMax pedestrian traffic counters are designed for outdoor use, have strong anti-vandal casing with water, and dust protection according to IP66 standard (via optional outdoor enclosure).  The counters are designed for foot traffic counting in no-electricity and no-internet environments. Outdoor traffic counters has extended memory that is able to store foot traffic statistics for up to 250 days.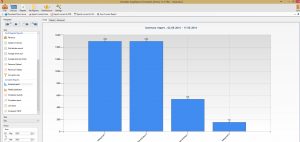 Pedestrian traffic statistics from counters  are collected manually by a mobile data reading device. It gives you opportunity to use outdoor people counters without any electricity connection. You can install pedestrian sensors on trees, bridges, walking gates, and etc.

Easy installation – wireless outdoor sensors don't need any cabling works and electricity connection.

Extended memory – outdoor people counters have built-in memory for pedestrian traffic statistics storing for up to 250 days.

Directional count – there are unidirectional and bidirectional people counting algorithms for your needs.

Outdoor design – pedestrian counters has strong anti-vandal and waterproof case.

Long battery life – bidirectional pedestrian sensors works from standard AA batteries for up to 12 months.
Pedestrian counting system consists of
Wireless outdoor pedestrian counters – for pedestrian traffic flow monitoring
Data collector – manual data collector for non-electricity environments or automatic data collector with data forwarding via WiFi/Ethernet connectivity
Reporting software – Cloud or on premise installation with 20+ ready to use reports in various time spans (per hour, day, month, quarter and year)